5 Different types of phones to choose from. Phones available are: the T7750 is a non speakerphone with no display, the T7720 is a speakerphone with no display, the T7731 is a speakerphone with a backlit single line display, the T7736 is a speakerphone with a backlit three line display.
---

3 cordless phones available that uses 1 station port on the KX-TA824 phone system
---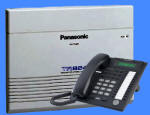 Small Business Phone System is designed to streamline office or home communications by organizing your phone lines into a cohesive phone system and making a host of advanced features available to each extension.
For a middle size business with the needs of basic phone system features to run efficiently.
---

Affordably priced headsets that work with the T7700 series telephones. The headsets connect to the T7700 series phones with a 2.5mm headset jack that will also work with most Cell Phones.
---
Sales and installation of the Panasonic KX-NS700 phone system ins Los Angeles, CA. Panasonic has been the leader of quality Panasonic Phone Systems for many decades.